I first came across matched betting many years ago on a website called moneysavingexpert.com within the forums.  It comes with a very heavy disclaimer about it being tricky to do, can cause a loss of money if done wrong and is essentially gambling.
This was enough to keep me away, until this month.
I am in a bundle of debt, to me it is small as I've been so much deeper but it is still quite significant really, so with my need to pay it down really quickly to stack some funds together for childcare I decided to put some time aside to read into it properly.
I'm not the most mathematical person, but I survived and understood the logic so thought I would dip my toe in.  I did well, turned over some money, made some stupid errors but thankfully realised where I was going wrong before loosing money.
There are a couple of websites that you can use to learn how to do it, they offer free trials and then you can pay a small monthly fee to be able to use their systems.  I use OddsMonkey, I have so far paid one monthly payment of less than £20 and have managed to put £160 onto my credit card that wasn't already destined there.  Woop woop.
Long may it continue.  I have so far only signed up to about 16 sporting websites so have many more to go.
Today's bets were all football related:
The first bet was a free bet that I had earned earlier in the week – the match is between Malmo and Djirgardens and I will come out with £37.82 from the match
The second bet I made was what I call an FUP, because I didn't pay enough attention and bet on a match that will not be finished in time to qualify for a free bet.  The reason I jumped on it, as a normal bet it didn't come with the normal loss, ergh, so, when the match is over on the 29th I will be 78 pence up but that wasn't quite the plan
So then I had to fix this, I still need to place a qualifying bet, I placed the third bet on Arsenal v Leicester for the 26th, for this I will lose 97 pence (don't panic this just comes out of my profits on the free bet I will qualify for)
The final bet of the day is another free bet where once the match is over I will come out with £6.86
Today's profit: £44.49
If you want to find out the basics of matched betting for free you can do so by clicking on the big blue box below, if you then sign up you will be helping my pay down that debt a little bit quicker.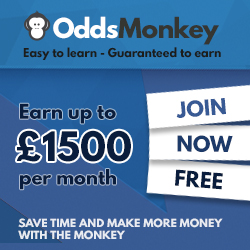 Until the next bet.